Final Edit -
Jack Daniels
Ideation -
Mood board & Concept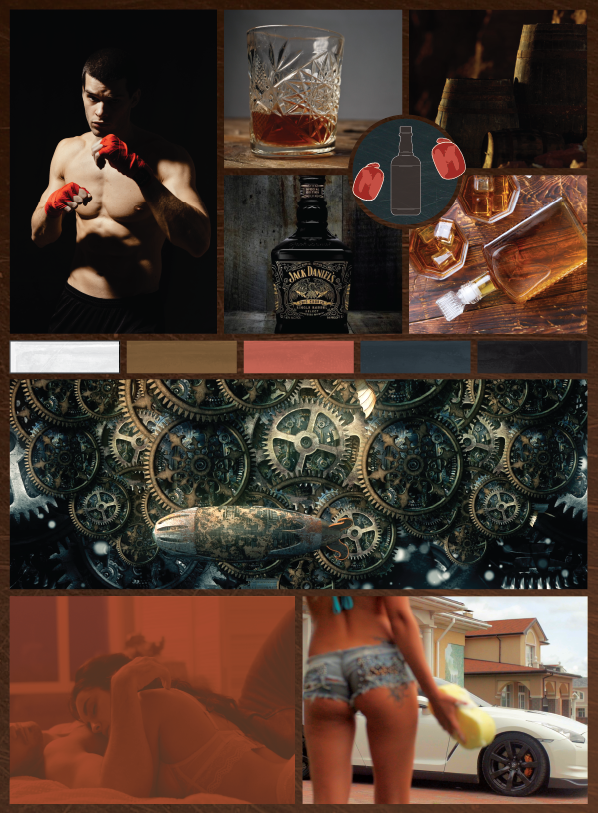 Concept & Application //
I decided to take a literal route with this stage background by emulating the main sentiment:
"
Jack Daniel's kicked my ass again last night.
"
In the final version of the video I've featured Eric Church's limited release Jack Daniels bottle throwing punches which lead to knockouts and scene transitions. 
Paired with the fighting bottle of Jack, it seemed only right to incorporate actual fighting. In my initial concept, I had only considered using boxers or bar fights- but after consideration, decided to include a medieval fight that rages on within the bottle itself (
seen at :37, 2:03, and again at 2:50
).
The final major theme of the song is love lost, (
first seen at 1:11)  
with lyrics such as: 
"
Her memory turned my head and he snuck up from behind
".
In this scene, a woman washing her car faintly fades in and out behind a glass of whiskey. Later, the same vehicle is seen driving off into the sunset. The juxtaposition between soft dreamy memories of time together, and a steampunk heart driven by metal gears and surrounded by nuclear blimps helps to drive the story further than just your average whisky fueled bender. 
Ultimately, this is a country party song, so rather than dwelling on the apparent alcoholism and relationship issues- it felt appropriate to keep things more lighthearted. With the almost comical boxing whisky bottle seen throughout and the inference that Eric Church wakes up in the morning as an old man (
2:08
), there is a good balance of seriousness, humor, and relatability.